Leisure Activities & Outings
Moorea is the ideal getaway for all sports and leisure activities. The surroundings are breathtaking everywhere and any outdoor activity is literally enchanting. The lagoon is king and all water sports are at their best.
We have selected many providers for our guests and are constantly improving our list based on our guests' reviews.
Alix, our concierge, will be happy to help you! She lives in Moorea for more than 15 years, so she knows every leisure provider in Moorea :)
Leisure Activities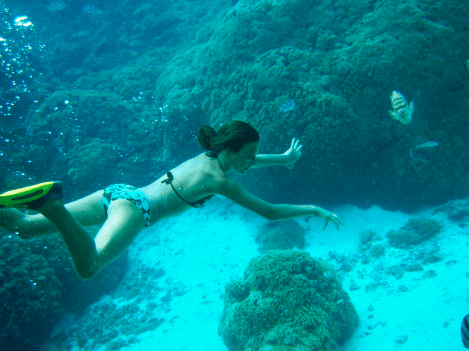 Snorkeling: the beach is right in front of the villas and opens on the calm lagoon waters. 20 meters away (60 ft), there is a drop off, home of many sea species, which lets you snorkel in full safety among the fishes only a few dozen yards from the Villas. There are no big waves because this place is very protected in the bay, so this is excellent for snorkeling and for children!
Diving: There are many scuba diving centers in Moorea which is famous for its diving spots. See our partner's web site Moorea Blue Diving.
Excursions on the Lagoon: Whether a boat ride to tour the island or an encounter with whales and dolphins, or water skiing at sunset, many leisure providers are at your service.
Power Boats: There is a small 6HP boat at the property for rent without a license, which is ideal to discover the lagoon or to go to the motus (islets with cristal waters). Book it in advance to ensure availability!
Surfing: The Opunohu Pass lets you surf on small waves. Watch out, however, for currents. The easiest and safest way is to do it with a provider who will take you to the best spots with his boat.
Horseback Riding: A ranch (only 10 minutes by car) is located in the Opunohu Valley for memorable rides in a spectacular scenery made of peaks and lagoons.
4WD and Quad bike: For those who prefer the comfort of a motor vehicle, a discovery of the hidden paths and breathtaking peaks can be done in a Jeep or in Quad ATV motorcycle.
Hiking: On the mountainside or throughout the tropical jungle, there is nothing like hiking, with or without a guide! Marathons, triathlons, etc. are regularly organized by the Te Moorea Sports Association.
Golf: The Moorea Golf Course is 15 minutes drive away, near the airport.
Spas: Several Spas are located in Moorea Island, including Helen'Spa, who created the first Tahitian Spa in 1999, ranked among the most beautiful spas in the world.
Outings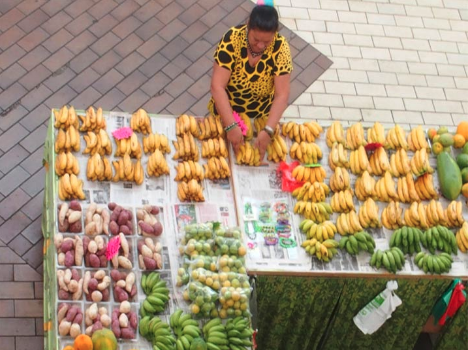 Food shopping: There are several grocery stores and supermarkets for your food shopping, as well as many local people selling their products by the road sides: pineapples and fruits, amazing fishes, and many strange local vegetables you must try!
Shops: Many small shops sell local arts and crafts everywhere. Moorea has a strong reputation for being the artists' island and shopping lovers will certainly find hidden treasures there.
Tattoos: Tattoos were invented by the Polynesians and brought back to England by the first explorators and sailors. Today Moorea is a main center for Polynesian tattoos with some of the best tattooers who settled in the magical Island. Take a look at the amazing traditional designs and take an appointment!
Black Pearls: Some of the best jewellery shops are in Moorea selling very nice creations and combinations of black pearls, for spectacular necklaces, rings, earrings, and pendants.
Restaurants: there are about 20 restaurants in Moorea Island for every budget and tastes, from little snacks to Resort restaurants which are welcoming outside clients. There are also a few gastronomic restaurants mixing French know how with fresh Polynesian products to create a very nice and flavoured cuisine. Our concierge will help you to book the right restaurant for that special evening out!
Bars: Most bars are within resorts and often proposes live music on happy hours, and sometimes Polynesian dance shows.
The Hilton is the closest Resort from Robinson's Cove Villas, only 3 min drive away.